Clothing
Best Warm Hiking Leggings for Men and Women
This site may contain affiliate links to products. We may receive a commission for purchases made through these links. Learn more!
When purchasing a new pair of hiking leggings, one must keep in mind the qualities of durability, comfort, flexibility and the legging's ability to adapt to the elements. Brands like Eddie Bauer, Fjallraven Abisko, Columbia, Outdoor Research, Arc'teryx, Patagonia and Under Armour are all known to produce some of the best quality hiking tights for both men and women.
Continue reading to learn more about the top 16 best hiking leggings of 2022, why they're the greatest and where you can purchase them.
Everyday Women's Trail Leggings by Eddie Bauer
Eddie Bauer Women's Trail Leggings are designed for hiking, strolling, and other strenuous outdoor activities.
Eddie Bauer Women's Trail Leggings are designed to be adaptable to whatever environment you find yourself in. This adaptable design allows you to wear them while either wandering around the city or hiking up a mountain. On mild days, they're warm, and on hot days, they're cool.
They're well-fitting, and the high rise is ideal for keeping your belly in check. Customers believe the pricing is reasonable for such high-quality leggings.
A sewn-in Power Mesh waistband ensures a snug fit that won't sag in the back during activities. These trousers include a slimming high-rise shape, angled side pockets with chafe-free zips, and a concealed waistline pocket.
---
Moisture-Wicking Women's Trekking Tights by Fjallraven Abisko
Fjallraven Abisko Women's Trekking Tights are comfortable and valuable hiking leggings for women, constructed of sturdy fabric and designed with various helpful features. These women's hiking tights are ideal for challenging terrain.
These trekking tights from Fjallraven Abisko are comprised of a moisture-wicking, thick, sturdy, and elastic fabric.
Low-profile seams and a well-blended gusset crotch provide strength and movement while maintaining the tights' attractive appearance. With four pockets, you'll have plenty of room to store your stuff and trekking necessities.
Extra reinforcement on the knees and back are included, as well as a broad, high-waist waistband with a drawstring fastening.
---
Everyday Men's Trekking Tights by Fjallraven Abisko
The Fjallraven Abisko Men's Trekking Tights strike the perfect blend of functionality and style. These leggings have everything from several pockets for transporting essentials to qualities like breathability and durability. Furthermore, the pair is simple to wash at home, dries quickly, comes in various sizes, and is a pleasant piece of clothing for the spring and fall seasons.
The key features of these leggings include a fabric composition of 82% polyamide, 18% elastane, and 62% polyamide. The reinforced parts are 16% aramid, 12% elastane, and 10% polyester. Knees and the back of the legs are reinforced.
---
Women's Titan Peak Trekking Leggings by Columbia
The Omni-Wick technology in the Columbia Women's Titan Peak Trekking Leggings effectively draws moisture away from the skin, keeping legs dry and cool, making them the finest leggings for trekking in the summer.
In addition, the outfit has a broad and comfortable mid-rise waist, reinforced knees and seats that are suitable for demanding treks, and it dries quickly.
Some of the Titan Peak's unique characteristics include four-way flexible fabric, reinforced knees and back sections, a security pocket with a zipper, as well as a skinny fit in a mid-rise design. In summary, they're a flexible solution for female hikers looking for long-lasting comfort and support.
---
Ferrosi Pants for Men by Outdoor Research
The Ferrosi trousers from Outdoor Research are wonderfully comfortable, allow a lot of movement, and keep you cool even as the temperature rises. They're comprised of tough ripstop fabric with a higher-than-average 14% spandex content, making them elastic and unrestrictive.
They give excellent mobility for hiking, jogging, yoga, and rock scrambling. They're also incredibly light, lightweight, and breathable, with drawcord cuffs that can be cinched up higher on your calves if necessary.
They are less suitable for cold or windy days due to their excellent performance in the dry heat. We also discovered that the waist extends after a few wears, so a belt is near-essential if you plan on taking a long hiking trek. Nonetheless, they're a super-comfortable all-around pair that shines in hot weather.
---
Gamma LT Pants for Men by Arc'teryx
The Arc'teryx Gamma LT trousers are lightweight and comfortable, making them ideal for a range of sports. They're ideal for chilly, damp walks because of their water and wind resistance. They also include a drawstring at the cuff, so you can roll them up and keep your legs cool if the sun comes out and the temperature rises.
They have cleverly designed features, and the fabric has enough elasticity to keep you from becoming distracted while scrambling.
The high cost of the Arc'teryx Gamma LT Pants for Men is one of the only disadvantages to these leggings. You may spend less on a different model and not notice a significant difference. These leggings also don't have back pockets. Despite these considerations, testers and consumers adore this model.
---
Women's Fleece Lined Leggings by Baleaf
The Baleaf Women's Fleece Lined Leggings are extremely toasty hiking leggings. They provide durability, ease of mobility, and suppleness during your adventurous travels. Their comfy and fashionable curve-skimming fit is both flattering and trendy.
Baleaf Women's Fleece Lined Leggings are not only great for hiking, but they also work well as a base layer for skiing, trail running, and snowshoeing.
One of the critical features of these leggings is a fabric composition of 87% polyester and 13% spandex. Baleaf also takes pride in its moisture-wicking, breathable fabric. These leggings include two side pockets, one secret pocket, and a gusseted crotch.
---
Women's Storm Surge Waterproof Rain Pants by Columbia
The Columbia Women's Storm Surge Waterproof Rain Pants are considered the best all-purpose hiking leggings for wet days. They shield you from rain, splashes from puddles, and the chill of the wind, all while allowing for breathability. These leggings are known for their ultra-lightweight, easiness to carry, and long-lasting durability.
The trousers are seam-sealed and made of polyester and nylon, allowing for effortless mobility.
The shell composition of these leggings is 100% nylon MO LTX, the lining composition is 50% polyester and 50% recycled polyester mesh, while the waistband lining composition is 100% nylon 210T taffeta. These fully seam-sealed leggings from Columbia also feature Omni-Tech technology.
---
Arc'teryx Beta SL Men's Waterproof Hiking Pants
These Arc'teryx men's leggings are top-notch in every way. Their full-length zippers make it simple to put them on and provide excellent breathability.
Arc'teryx Beta SL pants waterproof fabric is light and airy, with no obstructing breathability or sacrificing durability. These hiking trousers' adaptability makes them a good choice for modest mountaineering expeditions.
These trousers are also suitable for skiing. Because the pants have a full-length zipper, you can take them off without removing your footwear, whether it's muck boots or skis.
These Arc'teryx men's leggings include a Gore-Tex fabric membrane, PACLITE Plus technology, 1.6 mm Micro-seam allowance, a Gusseted crotch, Articulated knees, Bottom hem lace hooks, a Reinforced instep, ​as well as an Arc'teryx layering system.
---
Pack Out Tights for Women by Patagonia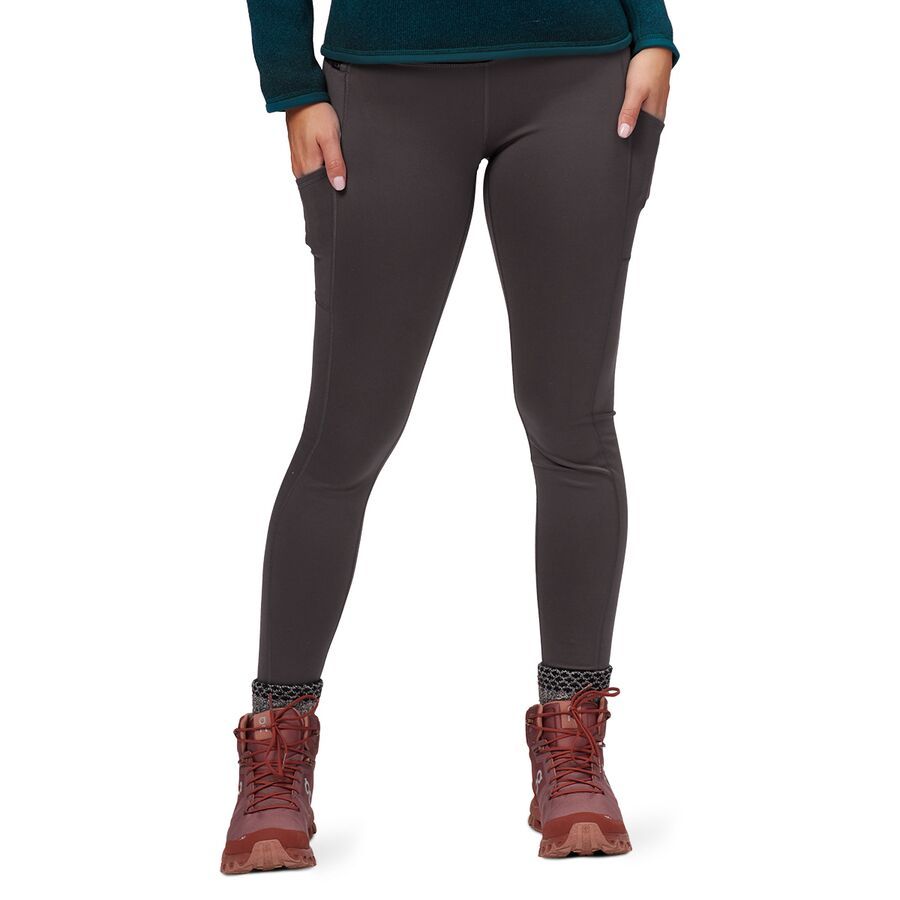 Patagonia's Pack Out Tights are thick, breathable, and comfy. These simple stretchy leggings feature all the bells and whistles you'd expect from a pair of women's hiking trousers. You may keep small goods you'll need quick access too along the path in three pockets, two on the side and one zipped.
Patagonia Pack Out Tights are well-known for their extreme durability, which many customers praise. These leggings aren't only durable; they're also covered by Patagonia's Ironclad Guarantee, which means they'll repair or replace them if they get damaged while you're wearing them.
Patagonia Pack Out Tights have a material composition of 87% polyester and 13% spandex.
---
Centered Tights for Women by Patagonia
Patagonia's Centered Tights are some of the finest hiking leggings for women if you're searching for a terrific all-around pair of leggings at a reasonable price. These stretchy leggings are thick, comfy, and breathable, with all the attributes you need in a pair of hiking leggings.
These hiking tights have a 15% spandex fabric combination for excellent elasticity and comfort on and off the trail. These leggings are built to withstand strenuous physical activity and are backed by Patagonia's Ironclad Guarantee if they don't.
Full-length and cropped versions of Patagonia's Centered Tights are available.
---
Women's Paramount Hybrid High-Rise Tights by North Face
Some ladies prefer the loose fit of hiking pants with the sensation of leggings. If you enjoy your leggings to fit a little looser, The North Face Women's Paramount Hybrid Tight is an excellent choice for your personal women's hybrid hiking leggings.
The North Face Women's Paramount Hybrid High-Rise Tights are incredibly elastic and comfortable, with a whopping 20% elastane in the fabric, so they're great for rough treks or hanging out at a campground in the evening.
These trousers also include four zipped pockets, so if storage capacity is important to you, these could be the finest hiking leggings available.
The North Face Women's Paramount Hybrid Tight has several key characteristics. Tights are made of a very flexible, loose-fitting cloth with lots of storage space for essential trekking gear.
---
Chockstone Rock Tights by Mountain Hardwear
Mountain Hardwear understands how to build alpine gear, and their Chockstone Rock Tights are an excellent choice for both climbing and trekking. These are an excellent alternative for hikers who want a versatile, robust tight that compresses, with a thigh zip pocket and very breathable fabrics.
Many loyal customers praise the leggings' workmanship and material. However, some have complained about pilling and snagging. They're also less elastic than many other hiking leggings and only have one pocket, making them less practical than other legging options.
---
Men's ColdGear Compression Warm Walking Leggings by Under Armour
The comfortable fabric composition combined with odor-prevention technologies and fast-drying characteristics makes a pair of Under Armour Guy's ColdGear Compression Warm Walking Leggings one of the warmest leggings for trekking for men.
Under Armour Men's ColdGear Compression Warm Walking Leggings provide improved comfort whether used as a single or foundation layer. The pair is also built to last, which helps to justify its high price tag.
The cozy walking leggings are made of robust polyester fabric and provide cold-weather comfort. Spandex and an elastic waistband allow for a full range of motion. The dual-layer structure keeps the interior warm and comfortable while the outside layer stays smooth and elegant.
---
Men's Merino 250 Base Layer Bottom by MERIWOOL
Meriwool Men's Merino 250 Base Layer Bottom are the perfect thermal leggings for winter since they are warm and lightweight. You may wear them alone at home or with a backpack on hiking excursions and camping.
Since the leggings are not too hot to wear as a single layer when the sun comes out, you may even wear them outside on a somewhat cold day.
If you're searching for a formfitting, soft, and warm base layer, these are the best warm leggings for winter. They're simple, comfy, and thin in construction. They'll keep you toasty in sub-zero conditions without adding weight or limiting your mobility.
---
Women's Glacial Fleece Printed Leggings by Columbia
Columbia Women's Glacial Fleece Printed Leggings have a more comfortable, standard fit for women whose main problem is that some tights are simply too tight for them. However, the tapered legs and contoured waistline make them ideal for mild trekking, yoga, layering, and reclining.
Despite being one of the most excellent winter thermal leggings, they may also be worn as comfortable PJs at home or the neighborhood market.
These are not fleece-lined but are entirely constructed of fleece, which means they are soft to the touch, cozy, warm, and comfortable.
---
Conclusion
So, there you have it. Sixteen high quality warm hiking leggings. Whether you are a man or a woman, and no matter what type of hiking you do, we are positive that you will find some hiking leggings here that are perfect.